WAAM3D has announced the v2 release of their signature WAAMCtrl® software at TCT360. The software has been under development since 2015. This all-encompassing operating system for RoboWAAM®, our state-of-the-art multi-metre 3D metal additive printing platform, has been designed for aerospace, defence, energy, and research communities.
Leveraging on the 60 sensors on board RoboWAAM®, WAAMCtrl® monitors and controls the WAAM® deposition, whilst recording all key process parameters on its secure server. As well as enabling operators to have a fully controllable production process, WAAMCtrl® also incorporates auditable data storage, quality logs, and interactive data navigation, to demonstrate compliance in a repeatable way. Finally, via its ergonomic, touchscreen-based graphical user interface, the operator can initiate automatic cycles for shielding atmosphere establishment, maintenance, and evacuation. WAAMCtrl® also provides a facility for controlling and restarting deposition programmes.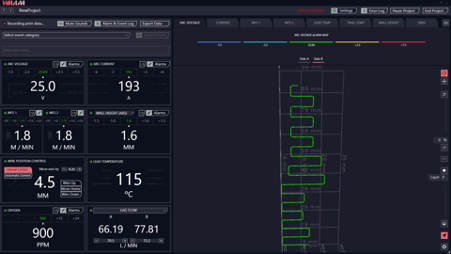 WAAMCtrl®'s primary features
Process monitoring of voltage, current, wire feed speed, travel speed, wire position, layer height, pre- and post- deposition temperature, oxygen, gas flow and melt pool in combination with RoboWAAM®'s hardware
Database logging of all key process parameters data
Real time rendering of 3D map of logged data onto actual tool path
Industry 4.0 enabled with downstream big data analysis
Via its API, it can be integrated with ERP and MRP systems for push to post-processes.
Version 2 updates
WAAMCtrl® v2introduces:
Touchscreen operation
Support for the newest WAAM3D processes: CWMIG® and Dual-Wire-Plasma
Support for new materials: Waspalloy and Inconel® 718
Support for in-process forging via vertical and lateral rolling
Improved closed-loop control for automatic wire positioning for existing materials: Ti64, carbon steel
Improved in-process layer height measurement
Pre-deposition thermal monitoring, allowing a specific interpass/interlayer temperature to be deployed, also resulting in minimised dwell time
Indicators showing the location of key sensors on the end-effectors
Configurable Dashboard layout
General improvements to the UI/UX, audit report, streaming and recording of the process camera, quality of life changes, and several bug fixes.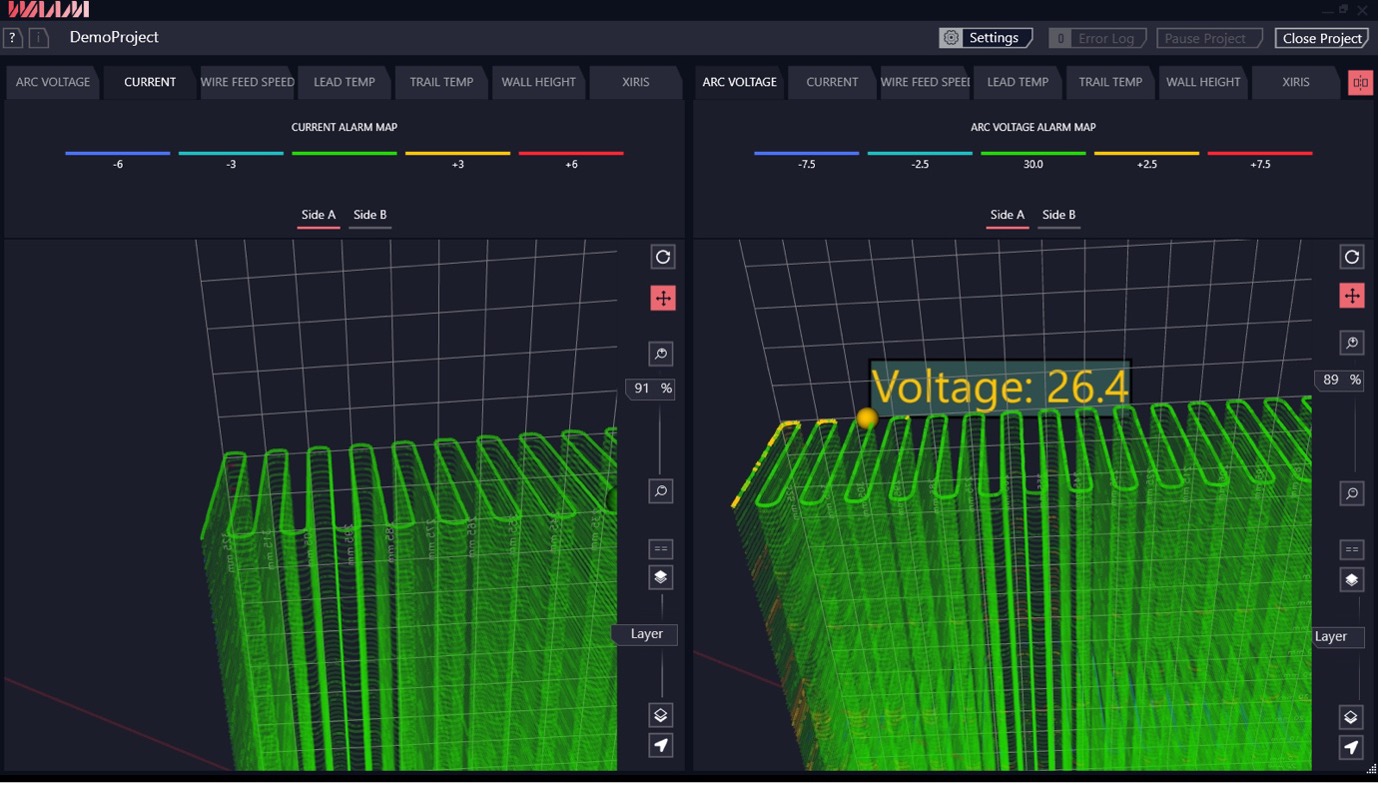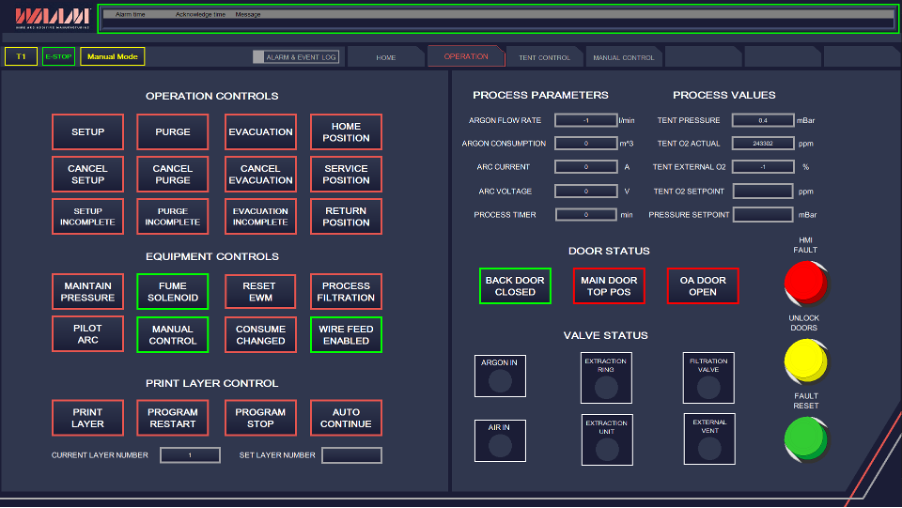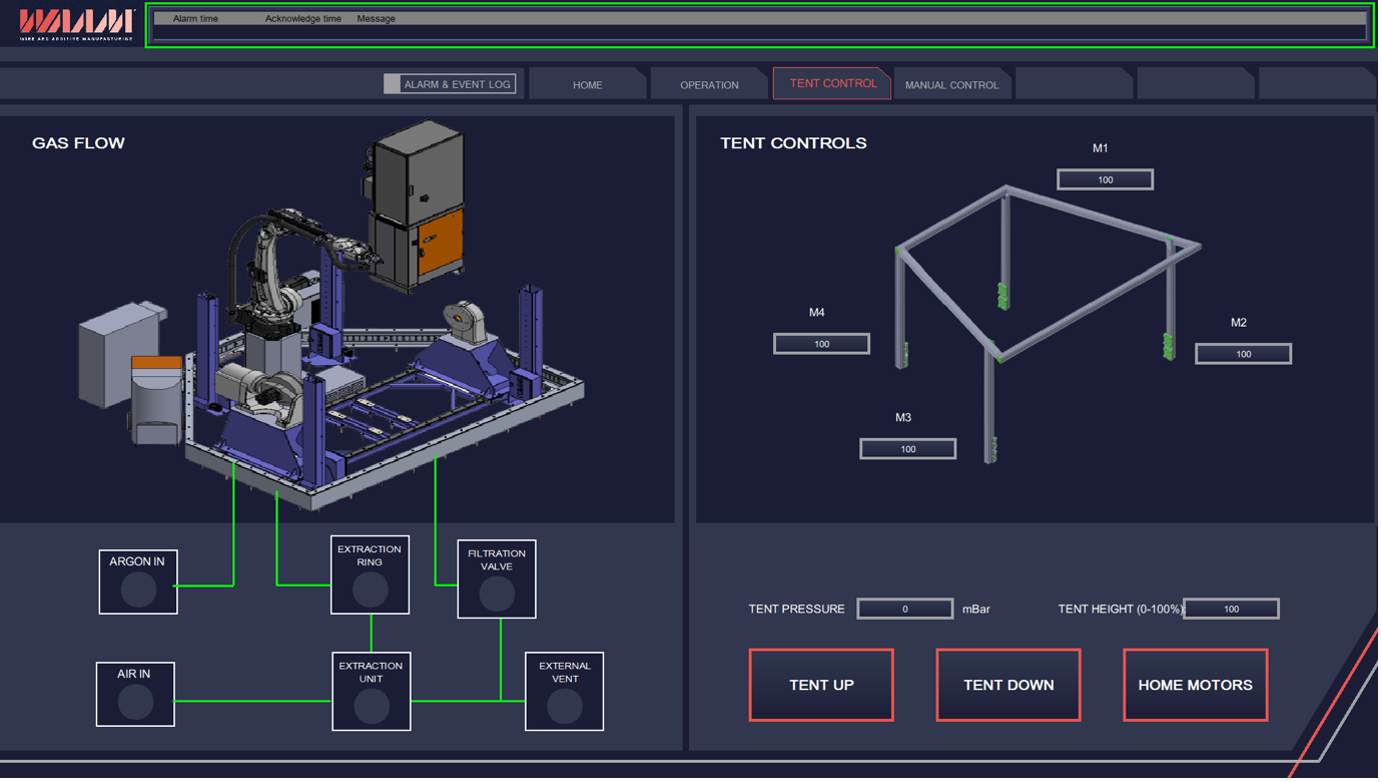 Real-time control
Operators can see in real-time how a project is progressing thanks to the state-of-the-art sensors transmit information to WAAMCtrl® tens of times per second, for monitoring and control via proprietary wire-position and interpass temperature closed-loops. Real-time colour-coding of the 3D charts also helps make sense of big deposition data, mapped over the part's real geometry.
Evaluation
Should the production process need to be assessed, WAAMCtrl® records all the process data, tracking the deposition of the part from material source to shipping and making them easily accessible. Thanks to WAAMCtrl®'s use of statistical process control, its monitoring output enables the demonstration of robustness, validity and compliance to certification boards and other regulatory bodies.All data can be summarised in the fully customisable Audit Forms or exported in csv format.
Jialuo Ding, Chief Technology Officer and one of the founders of WAAM3D, comments: "We are very pleased to be able to offer the v2 release of our signature WAAMCtrl software. WAAMCtrl serves as more than just a digital platform for collecting comprehensive process and system data for quality control purposes. It also offers a high level of process control and assists users in confidently utilising the RoboWAAAM system."
The development of WAAMCtrl v2 has benefitted from funding from Innovate UK (part of UK Research and Innovation, driving productivity and economic growth by supporting businesses), within the HPWAAM project (£1.2m of funding, and grant number 53610).